The year of 1811 is oldest inscripted date which is found in the mill.

In the tension beam the inscription says "dese nuwe moole wort nu aen gemale door Hendrieca Aleconde van". Although the completion of the name seems to be lacking, it is clearly dated with 1811.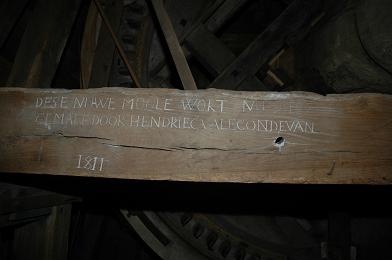 According to the data we have found in the municipality archives the complete name has to be Hendrica Aleconda van Gemonde.

If the year 1811 refers to the initial date when the mill is constructed or if it refers to a predecessor in Uden is unknown.

However, it is known that in 1815 Adriaan van Gemonde was the miller.
A couple of years later it is mentioned that H. van de Broek became miller is but it is known that he did not own the mill.

In the archives it is mentioned that in the year 1830 the widow A. van Gemonde owned the mill, and it is assumed that Henricus van de Broek still was the miller.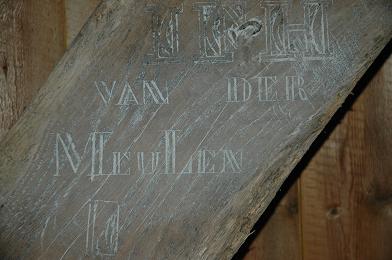 Around 1858 A. van der Meulen buys the mill and becomes the new owner.

In 1864 the very Young A.M.A. Rohling buys the property and Lambert Sommers becomes the new miller.

The mill changes hands several times in a brief period. In 1865 to A.J. Verhoeven and in 1867 to Martinus Poos.

In 1883 Poos sells the mill to Cornelis Roozen which is a professional miller.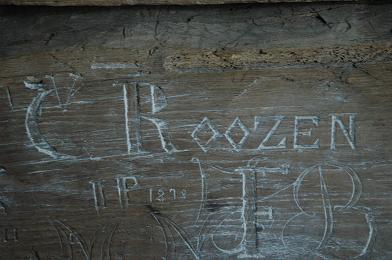 On 6 augustus 1910 Cornelis Roozen has permission to expand his capacity by placing a petrol engine of 16 PK. When Cornelis Roozen dies his wife inherits the company and the mill. The archives list F. Bakermans and W.A. Bakermans as owners, after widow Roozen sells the windmill.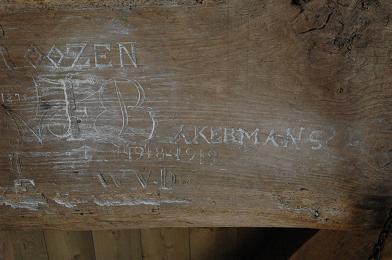 Meanwhile the windmill is replaced from the Helenastraat to the current place. This replacement was probably done in 1918/1919 by instruction of Franciscus Bakermans by the millwright's shop Gebr. van Tartwijk from Stratum.

In October 1922 Hendrikus van den Hoogen becomes the miller of the postmill in Uden.

In 1925 A.P.M Jetten becomes the owner and gets permission to expand his business in the same year. The family Jetten, which originates from the provence of Limburg, remains the owner till 1971.

In this year the mill is sold to the municipality of Uden which starts with the restoration.